Always Spring Clean is a family company originally started due to the frustration of never being able to find a good, reliable cleaner that met our expectations. We have been successfully trading now, for almost three years.
We initially started as solely Domestic but have moved across to mainly Commercial, due to the impact of VAT for our Domestic Customers.
Our customers are: 50+ domestic customers, a secondary school, offices in Canary Wharf, Loughton and Harlow, Flat and Garden Maintenance in Cambridge and churches in Epping and Woodford Green. We also work closely with Estate Agents in Loughton, Epping and Cambridge.
We provide a bespoke cleaning service, tailored to your preferences, ensuring satisfaction.
We are based on the borders of Epping/North Weald but our cleaners service a wide area so please contact us, so that we can provide you with our excellent service.
Please ring and speak to us with any queries, we will be delighted to answer them.
We look forward to meeting and working with you,
Gary and Alison Brookes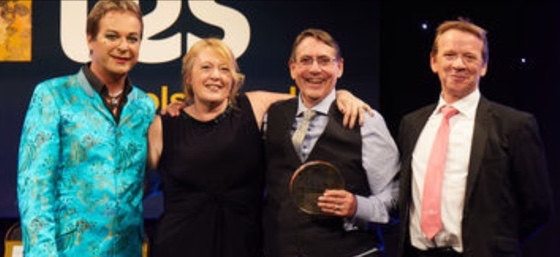 The picture above shows Gary and I, the Directors of the company, and English Teachers by profession, accepting the award for 'Best Teacher/English Department Secondary/Primary in England and Wales 2017' in July 2017. A very proud moment.
We now run our company full time, and it certainly keeps us busy.